Exterior Painting
The exterior of a house reflects those who live there so it's no wonder that you want the outside of your home to look as polished as the inside.
Exterior paint both protects and beautifies. Painting your home in the perfect combination of colours creates a place you can be proud to call your own.
Painting is also one of the most important maintenance projects for your home. Often, paint and caulking are all that protects the substrate from weather and wear. King Coatings can fix that tired, outdated finish that may not be fully protecting your home and investment.
Generally, customers who hire King Coatings to paint or stain their property's exterior are concerned about the protection, resale value, quality and beauty of their homes. They are looking for a company that will produce a quality job that will protect their home, look good, last a long time, and will be completed quickly with little mess or disruption.
Decks
Left unmaintained, a rundown deck is more than an eyesore.
It's also unsafe and costly to repair or replace. King Coatings can repair, seal and stain your deck to protect it from the elements, ultimately saving you money over time. Outdoor decks need protection that will last for years, so trust us to make sure that your deck will.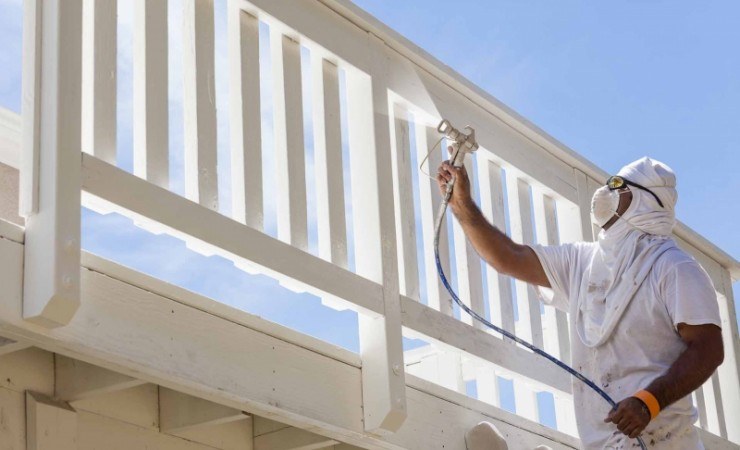 Height Work
There are some jobs that many of us are simply unable to do ourselves, no matter how handy we are.
We consider ourselves high height experts, with all employees fully trained in ladder safety and aerial lift certification. Whether it's a vaulted ceiling and the accompanying walls, the exterior of your three-story home or your warehouse, King Coatings has the equipment and expertise to make sure the job is done properly and safely.
King Coatings is fully insured to protect your home or business and those on the job site. We carry five million dollars liability from Millennium Insurance and comprehensive workers' compensation coverage. We also have COR (Certification of Recognition for Jobsite Safety) and practise progressive safety measures to prevent accidents before they happen.
Wood Work
Wood exteriors are no longer just for vacation homes and log cabins.
Increasingly, natural wood is being used for residential and even commercial properties. While this look is popular and attractive, it requires ongoing upkeep to ensure that it retains its aesthetic appeal.
King Coatings has plenty of experience with maintaining and treating many wood surfaces. Whether it's your summer property or your permanent home, we will bring out the wood's natural beauty and extend its life so you can feel comfortable that your investment is protected.